Some quick mockups for calligraphy and illumination stuff. Scrolls. I do that sometimes.
I usually get the illumination figured out the text sorted, then get an approximation of the typeface/ font and print it out. Helps with the layout, spacing.
For this I'm telling a short saga and I wanted to see it in French, Danish and English.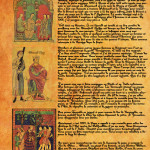 I did this today while waiting, in between appointments.